COVID-19 Related Information for Travelers to Hong Kong from the US
The HKSAR Government has classified overseas places into three tiers: Group A (high risk), B (medium risk) and C (low risk).
Beginning August 20, 2021, 0:00 a.m. Hong Kong time, the US is classified under Group A (high risk). The boarding and quarantine requirements noted below apply to travelers who have stayed in the US during the 21 days before boarding for/arrival at Hong Kong.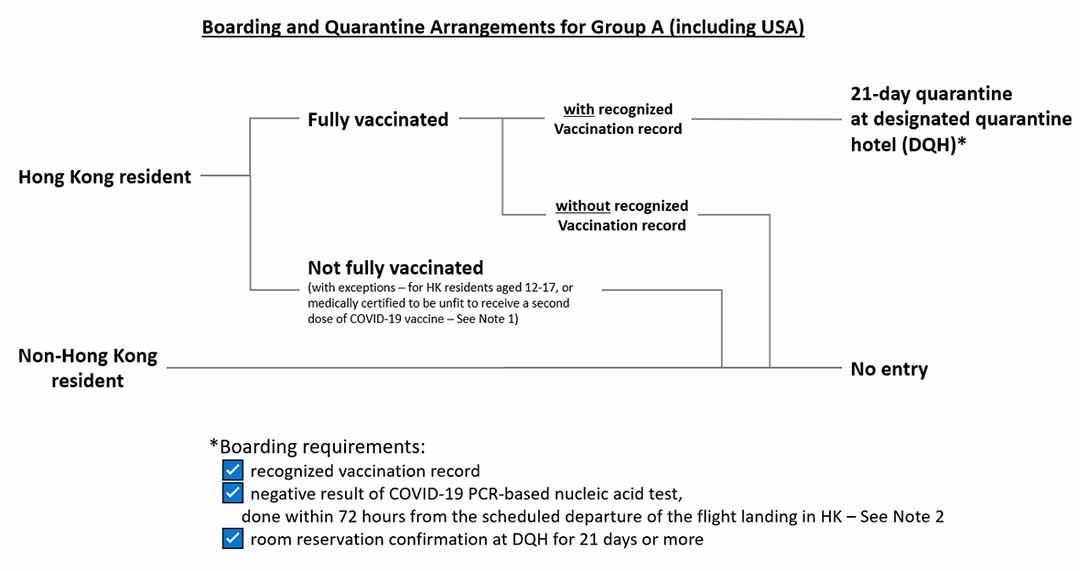 Traveling from the US, non-Hong Kong residents are currently not permitted to enter Hong Kong. As regards Hong Kong residents, only those who are fully vaccinated (or partially vaccinated (Note 1)) are permitted to enter Hong Kong. To board the plane for Hong Kong, they need to:
Note 1:
Effective October 29, 2021, 0:00 a.m. Hong Kong time, Hong Kong residents aged 12 to 17 traveling from the US who have received one (1) dose of the Pfizer-BioNTech COVID-19 vaccine, now marketed as Comirnaty, at least 14 days prior to arrival, are deemed to have completed the COVID-19 vaccination course under the boarding and quarantine requirements.
Hong Kong residents traveling from the US, who have received one (1) dose of a COVID-19 vaccine recognized by Hong Kong and hold a recognized vaccination record, are allowed to travel to Hong Kong if they have been certified by a medical practitioner that they were unfit to receive the second dose of COVID-19 vaccine due to health reasons after receiving the first dose. These travelers are required to present at boarding on the US side the aforementioned certificate issued by a medical practitioner who is either registered in Hong Kong or at the place where the vaccine was administered.
Note 2:
Passengers with journeys comprising of multiple flights should pay attention to how the 72-hour requirement is calculated. For example, for a journey comprising of two flights, one from New York to San Francisco, and San Francisco to Hong Kong, count the scheduled departure time of the flight from San Francisco. See FAQ here for details. Note also that, it is the time of sample collection/test taken that counts -- not the time when the report is generated or printed. See FAQ here for details.
COVID-19 Thematic Website of the HKSAR Government
---