COVID-19 Information for Travelers to Hong Kong from the US
Update on August 8, 2022: The HKSAR Government announced the "3+4" adjusted quarantine arrangements will come into effect on August 12 (Hong Kong time).

Boarding requirements
• To board your flight for Hong Kong, you must:
1. Be fully vaccinated (unless exception applies)
You have received a 2-dose series of Pfizer-BioNtech or Moderna, or 1-dose series of Johnson & Johnson's Janssen, or other recognized vaccine at least 14 days prior to arriving into Hong Kong; or

You were previously infected with Covid-19 and have received 1 dose of recognized Covid-19 vaccine; or

(for aged 12 -17 only) you received 1 dose of the Pfizer-BioNtech vaccine.
Children under 12 accompanied by a fully-vaccinated person;

Travelers unfit for vaccination due to health reasons with relevant proof (indicating the relevant health reasons in English or Chinese) from a medical practitioner

Travelers who received 1 dose of recognized Covid-19 vaccine but certified by a medical practitioner to be unfit to receive the 2nd dose because of health reasons after receiving the 1st dose of vaccine
2. Hold a negative result of a PCR-based nucleic acid test taken within 48 hours of scheduled departure time of the flight landing in Hong Kong (for travelers aged 3 or above)
If your journey comprises of multiple flights, you should note that the 48-hour window counts from the scheduled departure time of the aircraft that will be landing in Hong Kong. For example, for a journey comprising a flight from New York to San Francisco, and a flight from San Francisco to Hong Kong, count the schedule departure time from San Francisco.
Travelers with documentary proof of Covid-19 infection 14 to 90 days prior to boarding for Hong Kong may present negative result proof of a rapid test conducted within 24 hours of the scheduled time of departure instead; or

Travelers transiting at the Hong Kong airport
3. Hold confirmation of a room reservation at a designated quarantine hotel (DQH) for the 3-night compulsory quarantine period
Health declaration
Complete in advance the online Health and Quarantine Information Declaration to declare vaccination record and provide relevant information such as booking confirmation at DQHs for a streamlined process.

A Green health declaration QR code will be issued for a fully completed declaration:

Save time from further verifications at flight check-in

Use "express channels" at Hong Kong airport

Paper-free issuance of quarantine orders, medical surveillance notices, vaccination records and provisional vaccine pass QR codes

A Pink QR code will be issued if DQH booking confirmation cannot be verified electronically and will have to be reviewed at flight check-in
Quarantine and medical surveillance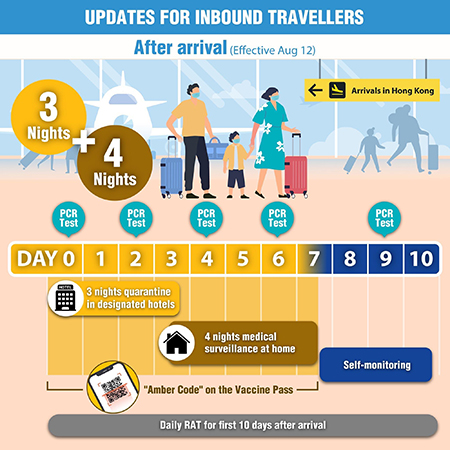 Upon arrival, you are required to spend 3 nights in a DQH, followed by medical surveillance for 4 nights.

Compulsory quarantine in DQH:

Day 0 - day of arrival in Hong Kong

Day 3 - exit quarantine in DQH in the morning if consecutively tested negative

Medical surveillance:

At home or self-arranged accommodation

Can go out after obtaining negative rapid test results for the day, but no entry on certain "high-risk" places.

Day 7 - exit medical surveillance at 9am if consecutively tested negative

"Amber Code" under "Vaccine Pass" mobile app in force during quarantine and medical surveillance period to restrict entry to certain "high-risk" premises
Persons who are holding an "Amber Code" in the capacity of a customer or a visitor (including an accompanying person or carer) are not allowed to enter:

catering premises (including bars/pubs), amusement game centres, bathhouses, fitness centres, places of amusement, places of public entertainment, party rooms, beauty parlours and massage establishments, club-houses, clubs/nightclubs, karaoke establishments, mahjong-tin kau premises, sports premises, swimming pools, cruise ships, event premises, barber shops or hair salons, and religious premises; and

residential care homes for the elderly, residential care homes for persons with disabilities, schools and designated healthcare premises.

Persons holding an "Amber Code" who are working or studying at the above premises, or receiving services at designated healthcare premises, are not subject to the restriction. However, their entry will also depend on whether the employers or persons-in-charge of individual premises have set additional rules or requirements according to their needs.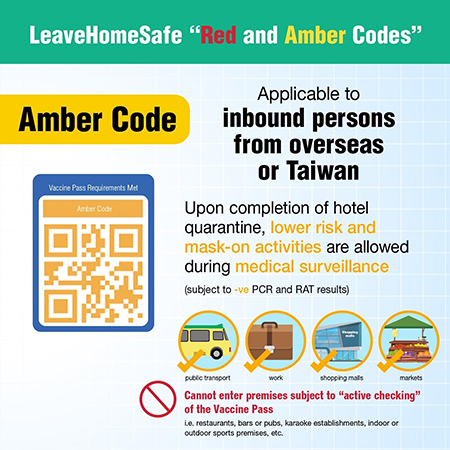 Testing requirements
Daily rapid tests (RAT) until and including Day 10.

Nucleic acid tests on:

Day 0 (at the Hong Kong airport)

Day 2 (in DQH)

Days 4, 6 and 9 (in Community testing centers, mobile specimen collection stations or recognized private laboratories)
For more information, see the dedicated website here.
---